…I just don't think it'd understand…
Ahem. Sorry, flashback there. All those of my generation (…how did I get old enough to be able to say that?!) remember Billy Ray Cyrus for his achey breaky heart. Now days, he's mostly known as Mylie Cyrus/Hanna Montana's dad, where he's traded in his mullet for a soul patch. Us reality geeks remember his desperate cry to get his mullet back on Dancing with the Stars, as well – but now he adds Show Host to his resume. That's right, starting Monday, Nashville Star moves from CMT to NBC as they spend the summer searching for their newest Country star.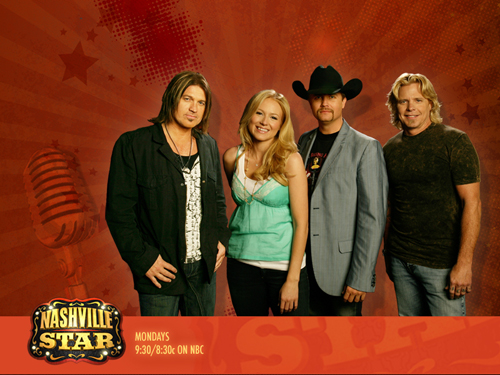 The two hour premiere will do what no other show like it has done – take us straight from auditions to the final 12 in one fell swoop – no 3 weeks of painfully bad singers to get through to the cream of the crop. Then, with 90 minute shows every Monday, we'll drop one at a time until a new Nashville Star is crowned. Jewel, who hosted the show on CMT (….mkay. Hey – did you know she grew up in Alaska? Just a couple hours south of me, in fact. She didn't used to like to claim us, and upset a lot of folks by canceling all her concerts a few years back, so it's nice to see Alaska included in her bio now.) returns as a Judge this time around, along with two other J names – Jeffrey Steele (songwriter) and John Rich (Half of the Duo, Big and Rich).
I'd be lying if I said my country loving heart isn't going pitter patter – this is right up there with Can You Duet in the ranks of "OH! Let's WATCH!" TBF (the Best Friend) has tried for years to beat the country out of me with many good indie/punk/hard rock tunes – I love them all, but Country… I still *heart* it too… Yes, I know I'm a geek. I'm ok with that.
The question is – are YOU gonna watch?