We're down to 9 men, hoping to "marry America's Sweetheart" DeAnna. Oh goody. There will be singing, dancing, and tears – mostly from me, as I sit through it, I'm sure. We start out the morning as Robert, Jason and Fred get to move up to the Mansion from the outhouse and the announcement there will be a group date, a one on one date, and a two on one – though with that date one will be tossed immediately so they'll have to pack before the date. The boys will have to earn the spot on the One on One date too -by writing and performing an original song for DeAnna. Poor boys!
There's goodnatured grumbling as Jesse says he sucks at this and he wants to punch the host in the teeth. Ha! Twilly is worried that he has no game whatsoever, as Brian admits to loving putting verse on paper – he's thrilled with the contest. Poor Sean says he'd rather dig his own grave, as the boys continue to joke around and someone mentions "refrain" and they go "…a what?!?" and I snicker. The "easy" part is over after 20 minutes or so, and now they have to perform their songs. DeAnna is the sole judge on who win. They let Fred go first to put him out of his misery. Much giggling all around – poor guy is tone deaf, but he got rhyme, and he at least tried. Graham wants to eat glass rather then this, but he hopes to just slide through the radar. Robert thinks he can sing – and he can better then the others but they did alright – there was even a rap, and a lot of spoken word that wanted to be lyrical, but well, fell short. Jesse gets points for braving and singing directly to her while holding her hand. Awww. He gets a hug for his efforts. Brian W sings his efforts called 'a house of my pain' which is.. not too bad. He surprised the other guys and even got a standing ovation and Twilley's admiration. Ha!
DeAnna says it's hard, and says Robert was good, as was Sean – but she goes with Jesse because he reached out to her – she ate up the hand holding. Turns out, after a delivery of a tux and tickets to a "private serenade" he's now quite nervous, and it's actually pretty cute. Bonus – he cleans up pretty nice, all told. DeAnna assured us she don't want to change him, just make sure their lives mesh well. He's like a giddy school boy, especially when he sees his names in lights "one night only, just for you Jesse" and they walk hand in hand through the theatre to find a table with dinner for two.
Meanwhile, the boys get their date card – Brian, Twilly, Sean, Jeremy, Graham and Jason will be going on the group date that says "Start your engines" which gets cheers for driving something, fast. Which means Fred and Robert have the 2on1 date which worried Fred.
Back at the date – DeAnna tells Jesse he should preform his song again, and he does – nervously – in the empty theatre to her applause and hugs though he says he has to step up his game now to make sure he gets the rose as DeAnna says she needs to figure out what he wants in life. She tells him he has good answers, and waits to see what he says that's bad. He admits that he doesn't open up easy, but he is trying and says his feelings are real. DeAnna admits not usually being attracted to his type, but he's so real and thats what she notices and needed. He toasts to the new openness that scares him to death, but he's here for her. He brings up the rose first because every time he lifts his glass, he hits the plate where it sits, and she says he's right, that everytime they talk something grows between them and he gets his rose. She says she doesn't feel pressured with him, and that's important. Then the curtain lifts, and Natasha Beddingfield is there singing for just the two of them and they dance and it's oh so cheesy romantic. Jesse feels swept away. He's definitely feelin it more then DeAnna at this point, but she's open to more and says the night couldn't be more perfect and she sees a life with him full of love, excitement and new experiences, making her feel like the only woman in the world.
Group Date Time – and they get on a bus and DeAnna is sure the guys are gonna be macho today as they head to the race track to drive stock cars. Feeling the need for speed, they are, as the boys all cheer. Sean is beside himself, because he races at home, this is his element and he's taking it. They get 3 timed laps, and whoever is the fastest gets something special. Brian has problems even getting started – and says he's too big for the car, then he manages to get it going and takes off with a scream. Each of the boys take their turn, even Graham who lives in NYC and hasn't driven in like 2 years, Jeremy who is so competitive he was upset he didn't win, and Twilly who gets motion sickness – but in the end the big winner is Sean who says he's a happy man, and it meant to world to him and he gets one on one time with DeAnna and bares his soul a little bit – though he calls her a redneck, because they share small town bluegrass connections and says that's good, and he's very confident now.
Then DeAnna shows off and does a few laps in the car – letting them in on the secret that she knew all along she could outdrive them. Ha! They find it very sexy and fearless – and she DOES beat them with the fastest speed of 141.46 after leaving rubber on the starting line – something none of them did. That makes Sean declare to us "that's my wife!" Jeremy steals her for some one on on, and the guys talk about him behind his back saying it seems he feels he has to step it up and up and up and he's overconfident. DeAnna admits she has strong feelings for Jeremy, but is also attracted to Graham, who interrupts and steals her away, and Jason says he's jealous and it sucks to see her fall for another guy. DeAnna asks if he's gonna kiss her, and Graham says no, he doesn't want to be one of a bunch, and wants it to be different, and she's not happy about that, and says she's hurt by it and says she knows exactly what he's feeling she doesn't need him to make her feel that way. She ends their talk with that, and tells us he's not being fair – and they bicker on the way down and she is upset that he's holding back and she feels a connection and it breaks her heart that he isn't putting himself out there like she is.
Robert and Fred get their date card – mentions recipe's for love, and they talk about kisses and Robert says she won't kiss two guys in one night. Fred feels he's calling it before it happens and Robert says no, he feels whoever she kisses will be coming home.
Back at the race track, DeAnna gives out another rose to Sean. He's pleased as punch, of course, as the boys congratulate him, but tell us how hard it all is on their hearts.
Next up it's a party at the outhouse, where the previews have showed the whole meltdown happens. The boys decide to throw the party and they plan it all for the group at the Mansion, and even fill a kiddy pool and call it the hot tub, hoping they can all hang out without the stress of a rose on the line. DeAnna is giggly when she sees their invitation and they all head down to play and she hopes to have the opportunity to talk with them, before tonight's decision. They set up a kiddy table for the mansion guys, and even spell the names wrong. Hahaha! Robert tosses the chair and gets pissy and stalks off. DeAnna says she felt awkward and the party was kind of weird from the start, and Graham is all kinds of uncomfortable and jealous as they break out the beer pong and he's avoiding her. Robert is missing, and DeAnna goes to find him and see what's going on and says she's really upset because those who were hanging out with up at the house ditched her when they got there. He says he feels awful because and says flat out he knows he's not one of the front runners, and he heard something that upset him – someone said it would be unwise to go into tonight with a positive mindset.
She goes on the warpath and stomps outside and the dramatic music starts and she is in tears, and tells them all off – she should be the happiest person in the world but they're all breaking her heart and she came there to hang out with them all – if they don't want to hang out, go home, it's not a joke, she knows what they're going through and knows how hard it is to know she is dating other guys but she's trying to figure things out and if they can't handle it go home she put 100%. She stomps off, and the boys feel guilty and admit it all backfired on them and they feel awful.
Time for the 2 on 1 date, and Robert feels confident they can bounce back from the afternoon faux pas and Fred says he'll step it up and get the rose at a dinner at a Mansion in the Hollywood Hills as DeAnna swears she'll put the afternoon behind her to deal with the rose giving tonight. They chat about romantic things they've done for other women and Robert is more vocal then Fred, but I think Fred wins the 'romantic' with a surprise little trip he had planned and he says he loves to do things like that. Robert says it sucks to competing with him because he's a great guy, and he's going to go all out tonight. He asks to kiss DeAnna and gets a kiss on the cheek and it goes downhil from there as he says that he knows there's a connection. DeAnna says she had to give him the dodge, and she goes for the kill asking how he deals with conflict and he says he talks about it – this after wandering off today and doing the direct opposite which she points out to him. He says he was going to talk to her later, not in front of the guys. I'm sensing the end of Robert.
Fred has more sense and puts himself out there, without being pushy or overconfident. The boys at home think (hope) that the date is going horribly and they expect Robert to be going home too. Back on the date, DeAnna proves us all correct and sends Robert packing. He's stunned. We're not. Haha. She tells us there was no connection or chemistry. Fred is relieved, but makes sure to check on DeAnna after she walks out Robert to make sure she's ok. Aww. But then she tells Fred that she can't bring herself to lead him on like Brad did to her, and admits that she doesn't see a relationship with him. She says he's one of the best men there, and is sorry, but sends him packing too. WELL then, that was a surprise. He mans up and tells her not to be sorry, he just wants him to be happy – as the boys race up to see both sets of bags being taken out – an option they never considered. They're all shocked. Jesse nails it and says Fred was stuck in the friend zone. Jason, up at the house – alone now – welcomes her with open arms and an ear to listen. She admits to us that she wouldn't have wanted to be there with anyone else, and they share kisses under the moonlight. (I just threw up a little writing that line.. a romance writer I'm not. *L*)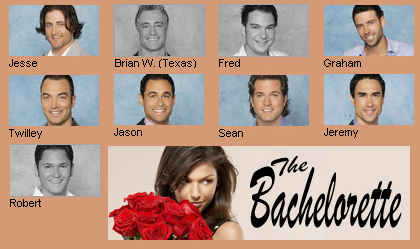 Time for the cocktail party, and she decides to let loose and have everyone change for a late night swim. Then it's time for the rose ceremony, and Brian is sent home without much fanfair at all. And with that, we're down to 6.