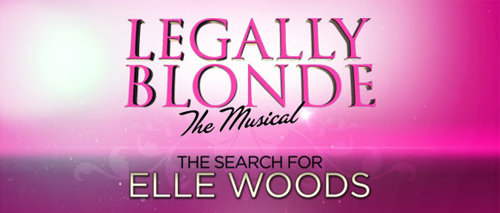 Tonight the top ten Potential Elle's move into the NYC digs for the duration of the competition, and it is – of course – an all pink loft that made my girl (she of the hot pink room) squeal "I WANT THEIR ROOMS!" in a giddy high-pitch way unable to be heard but by other Pink Lovers. They pop the sparkling cider for a toast (how WHOLESOME!) and everyone is getting along fine. Of course, we know that won't last. They get the call sheet and are told to dress comfortable and casual… which for Bailey is pink high heels. She was smart enough to pack an extra pair of flats though, and she admits such when her shoes are pointed out.
They warm up with a tongue twister – laughs ensue as they repeat variations of the phrase "Mother pheasant plucker" while blushing and giggling everytime they slip up and get bleeped. They run lines with the actor who plays Emmett, the love interest, and Bailey is picked on again because her Southern Accent is too think. It's worth it though, as in the end she wins the challenge, and gets to take Lindsey with her to spend some one on one time with Nikki Snelson, the curent Brooke Wyndham on broadway.
Haylie informs all the girls they'll be performing the Delta Nu Nu Nu scene with Nkki for the judges – a tricky bit that involves finger snaps, hand signals and quick movements. Bailey and Lindsey are smart and have Nikki Snelson teach them the hand gestures, and end up convinced they'll nail the scene during the audition.
At the loft, the other girls are trying to learn the song on their own and it quickly dissolves into opinions stated loudly enough to drown each other out – too many cooks in the kitchen!
At the audition, Nikki Snelson is instructed to drop one of her lines to test the girls ability to think on their feet. Lindsey fails the test by being silent for a long time until Nikki 'remembers' her line. She drops the same line with each girl, and some don't miss a beat, while others completely blow it.
Judges deliberate, then the 10 Elle Hopefuls walk onstage holding hands and learn their fate from a casting list. Names on the list – they're staying for sure, if not they face elimination. Bailey, Lauren, Emma, Natalie, Rhiannon, Autumn and Celina are declared safe and go off stage while Cassie O, Cassie S and Lindsey are the bottom three and head to the casting office to see who's going home.
The judges tell Lindsey she looks like Elle Woods, but didn't deliver but they give her another chance. Cassie S. has the tools to succeed, but is a bit to robotic, and Cassie O has the best voice, but no acting to back it up, and in the end, that's why she is cut, which causes her to sniffle her way out of the theater.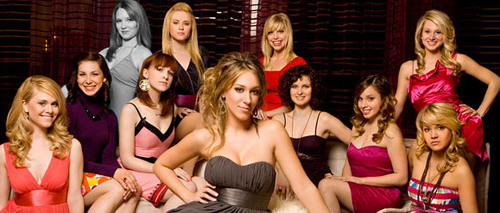 Tune in next week for more pink then you can shake a stick at – and I haven't convinced my daughter to write the recaps for me. She's too busy singing Delta Nu Nu Nu. (…someone shoot me…)