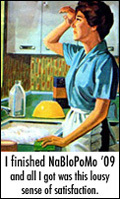 Well would you look at that! I found something to post every day for 30 days – and with a minimum of fluff posts! AND you all came and saw and played along! Thanks for doing that – you guys are the best!
And – after 30 days of posting, I really have nothing else to say today. Haha!
So congrats to all the others who have succeeded in NaBloPoMo, and special congrats to those who whipped out 50k for NaNoWriMo, which I completely bombed at this year. Heh.
And to all of use who didn't QUITE perform up to the standards we wanted too this month? Hey – there's always next time!