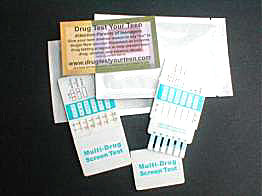 On the previous posts, we talked a little about huffing. While that's not detectable via any drug test, if you're worried about other types of drug use, there is an at home testing system that you can use.
This of course, brings up the issues of teenagers and privacy again – but there is another side to it. If you're child is feeling pressured to try things he's not ready for, or shouldn't do ever anyway, sometimes even if they HATE it, being able to say "No way, my mom TESTS me for that crap" is an easier way to say no. And I'm all for giving our kids every possible advantage.
If you're interested in more details, check it out here!