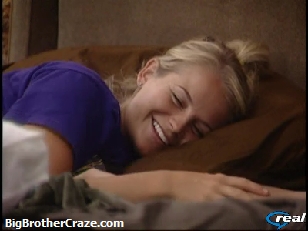 We come back after the show, with Jeff and Jordan are laying in the HOH bed, giggling and being goofy. Jeff doesn't like people laying in his bed, so he feels a little weird. They're being thier adorable selves… laughing because they can't figure out the buttons on the spy screen remote and keep missing people who are walking by…
Jessie and Lydia are doing each others hair. Jessie won't go out with 'devil horns' even though Lydia's hair is a hot mess.
Jeff: we're like beevis and butthead, hating on everyone! We're not even up here, we're fakin like we're up here! I hope this next HOH comes to me and Jessie.. smoke his ass.
Russell joins, and they're giggling like crazy… Russell admits to watching them and making voices, and Jeff and Jordan says they were doing the same thing and laughing…