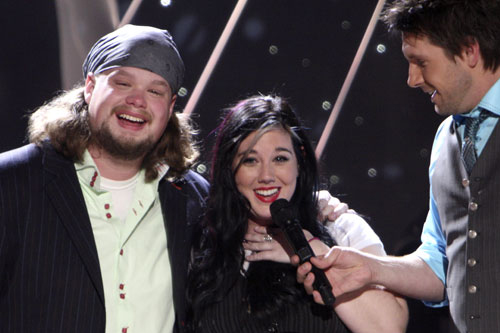 I called it! Or well, I hoped really, really hard and while I was sad to see Joey and Rory bobble in their last and most important performance, I couldn't have been happier to see a final two between Brownell and Richie against Caitlin and Will! We all know who my favorites have been since they sang together the first time, and to see Caitlin and Will hit it out of the park in those last two shows? BOOYAH!
It was close, Brownell and Richie put in a good show too, but no one can deny the powerhouse voice that Caitlin has, and Will has improved and gotten so confident and the blend is SO GOOD – I swear you don't expect that voice to come out of such a teddybear! It was just fantastic to see the underdogs pull out the win over the pretty boys. They sang "Stupid boy" and then their new single "Love is" that will be released by Sony – as Will said "We're gonna work our hardest to make buttloads of money for Sony since they gave us this song!" Ha!
Congrats to Will and Caitlin – and to the judges for doing it right. *grin*
As soon as youtube gets videos up of their performances, I'll get them up for you too. Until then, you can catch all the finale performances here at CMT.
Here's Caitlin and Will performing "Never loved at all" in the next to last episode – their first love song of the competition (by design – they wanted to wait till the right time.. clearly this was it!) and man they knocked it out of the park!
And here's they're new single, Love is.