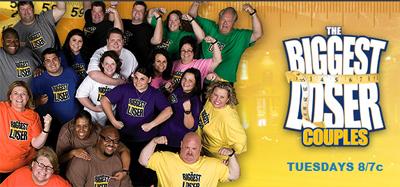 At the ranch, Jillian and Bob are shocked to find the Brown team, Curtis and Mallory had been eliminated last week. They both said, after a round about explaination, they realized that it's Game on. Mark says he knows its a game, they've been playing since the beginning.
Jackie and Dan were the weighin winners for the second week in the row, and as a reward, they have to hike to the top of the mountain (hill!) and retrieve their prize. There are three envelopes – family, gameplay, or luxury. They have to chose one of them, and discover what they win. They debate all the way up the hill. THey decide to choose the gameplay option, and discover…
…a commercial. As usual.
Back again, and Jackie and Dan have won the chance to cast two votes at the elimination this week. They're both happy for that, for sure. Dan is hoping that some of the biggest competitors fall below the yellow line. They checked to see what they passed up – a family member visit for 24 hours, and free massages for them and another team. They're happy with thier choice, and started back down the trail.
Back at the Gym, Bill and Jillian say they've been thinking about the numbers being so low last week. Bob knows the body will do what it wants to do, but Bob and Jillian are going to step it up. Everyone needs to take a look to the left and the right and ask if they've done better then those people. Everyone is there for themselves. Bob zeroes in on Amanda, who didn't lose anything last week, then makes his way to others and encourages them to work harder then they have yet.
Bob talks to the girls about snacking and to start thinking about what it'll be like when they go home. He tells them to use gum (Extra) to help them feel like they're chewing without adding calories. Then it's back to the gym. Bette-Sue is feeling exhausted and is having a hard time, and Bob is trying to tap into their competitiveness. He sends her walking with 20 pounds, and she tells us she couldn't believe it, after all she'd already done- but she does it.
And Jillian is focusing on Neil again, and Amanda defends him to us. He admits he doesn't handle change very well, but he's getting more comfortable, and Jenn is sure he's fooling people and they all see it. Bob catches him holding on to the bar on the tredmill and makes him hold the weights. And he stops walking. Jenn is frustrated with it.