Wow. Today's the last day of school before vacation for my rugrats, and others around the country are being let out tomorrow – and you know what that means… only a few days left to shop, and also? The kids will be HOME for TWO WEEKS.
I give it less than 24 hours before I hear the first "I'm bored!" But that's Ok, because I've a WHOLE LIST of "Honeydos" for when they're silly enough to say such things. You know, "honey, do this… honey, do that…" – it works for more than just husbands!

One thing I've noticed about the kids as they enter pre-teen and teen years, is that while the presents get smaller, they're more expensive! But here's one for your (and my!) girls who are ages 8-14!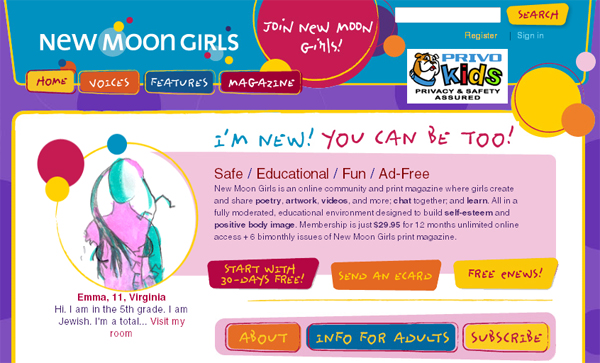 .
It's called the "New Moon Girls", and there is an online community and a bi-monthly print magazine, too. The chats are moderated, and there's a staff member online at all times to ensure the safety of the girls. It's an ad-free space that's by girls for girls, where they can share their thoughts, opinions, poetry and artwork in an environment meant to help boost their self-esteem, positive body image and confidence.
You can get a 30 day free trial, and then it's just $29.95 for a full years access, which includes the bi-monthly magazine too. (You can see the current magazine here.)
You know me, I'm all for safe and positive places for our girls, where they can express themselves and be the strong amazing people we know them to be! So check it out today!